RFID & NFC Technology has been assisting events and venues eliminate cash for a number of years. With the onset of the COVID-19 pandemic we foresee a surge of digitalisation on events, most notably around payments.
Our best-in-class RFID solution allows us to install and create a completely cashless environment whilst collecting valuable insights & data on your event and attendees.
By opening up our system to accept open-loop payments, we can easily align with mobile payment terminals, cashless payments and own device ordering systems to create a bespoke cashless payment solution for any event or venue.
RFID Technology
Our secure, robust and event proven system has been deployed in Hong Kong, Singapore, Shenzhen and processed over 10 million transactions.
Featuring offline-support, multiple currencies & coupons, and bank-grade data encryption our best-in-class solution is perfect for transitioning to cashless.
Open-Loop (RFID & 3rd Party Payments)
We have opened up our RFID system to now accept open-loop payment via 3rd party payment terminals. Reduce the need for additional top-up, allow customers to pay in the method of payment they like and never miss a sale by accepting payment via open-loop at the POS.
Mobile POS & Table Service
Our completely mobile solution and offline support allows venues to serve attendees in seated guests and reduce movement around a venue and help maintain social distancing.
Mobile Payment Terminals
We utilise the industry leading BBPOS payment terminals to supplement our cashless solutions and offering all payment types and methods via one single, mobile device.
Own Device Ordering (ODO)
ODO is also becoming more prevalent in venues to minimise the contact between customers and staff. Customers order and pay using their own smartphone (via Credit Card or Apple Pay), we have aligned with leading Hong Kong F&B ordering POS system eats365 to introduce ODO to upcoming events.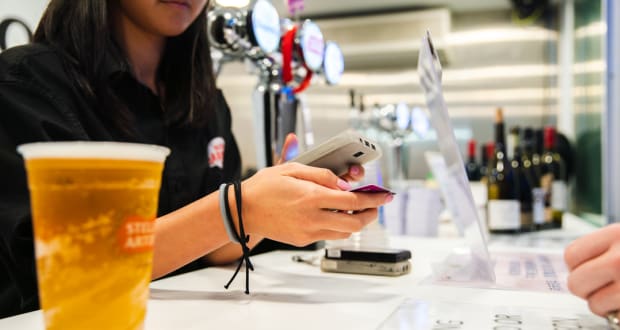 Our RFID & Cashless solutions have been utilised at some of the biggest events and venues in Asia including Hong Kong Observation Wheel, AIA Carnival, Whiskey Live and Rugby World Cup Fanzone.
With a wide range of industry-leading features and tools we'd love to discuss how our system can be used as part of your COVID-Responsible strategy.
Reach out directly to our Head of Business Development James, via james@zicket.co to discuss.