Access Control is a key component in our Toolkit and one of the main junctures where customers and staff interact. To meet guidelines and best practices set out by local authorities we have a number of new features available including Self-Scan Access Control, Timed Sessions & Digital Temperature Checks.
Self-Scan Access Control

Allowing customers to scan their own ticket (physical or mobile) drastically reduces staff-to-customer contact and offers a safer, fast and robust solution for guest check-in.
See this in action at one of Hong Kong's leading attractions, Hong Kong Observation Wheel and check out a preview below:
Timed Sessions
Timed sessions and time-restricted tickets aid in controlling capacity, arrival time and help to ease congestion at events and venues.
This feature can give peace of mind to both the event organiser and customers allowing them to also see busy time periods at a venue or event and choosing a time that suits them.
Digital temperature checks

Temperature checks have become the norm at airports, offices and shops. Events are no different and zicket can assist in deploying one of the quickest and easiest COVID-19 preventative measures, the surface temperature check.
Our Access Control COVID-19 Toolkit features are deployed at one of Hong Kong's leading tourist attractions - The Hong Kong Observation Wheel (HKOW).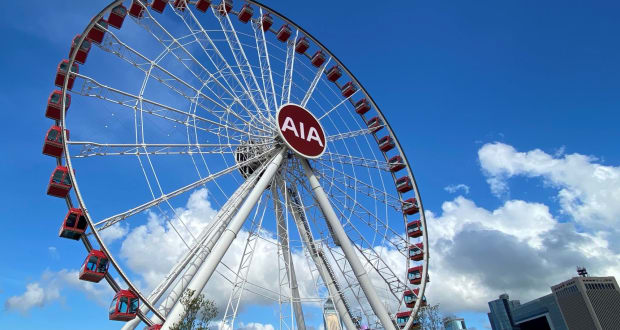 We are delighted to be the chosen technology partner and provide COVID-Responsible ticketing & access control technology to the Hong Kong Observation Wheel & AIA Vitality Park.
We have worked with their team every step of the way to help device a COVID19-Responsible strategy and utilise technology where-possible to enhance the visitor experience whilst following the HK Governments latest anti-epidemic measures.

HKOW utilise the following Zicket COVID-19 responsible system features:
Self-Scan Access Control
Contactless Payments at the Box Office
Digital Track & Trace (Online & Offline Sales)
Real-Name Ticketing (Online Sales)
Capacity Controls & Timed Ticketing
Alongside operational and onsite guidelines:
Socially Distant Queuing
Required Mask Wearing for Staff & Customers
Contact-Free Temperature Checks
Single Group Gondola Rides
Hand Sanitiser available at key areas
Increased Sanitation and Cleaning of Gondolas