What a rollercoaster year it's been! 12 months have flown by since we launched our revamped Zicket.co website, developed by Parallax, and ticketing service, powered by Eventbrite. This strategic partnership has reshaped our business, services, and capabilities and unlocked unparalleled results and growth for our clients. Join us as we retrace the steps of this incredible journey, revealing the successes, learnings, and arsenal of tools and strategies behind these milestones.

The First Year In Numbers
Before diving deep, let's start with some headline figures that paint a picture of our collaborative success over the last year with Eventbrite. All data accurate as of 01/08/23:
Over the past year, we've helped clients sell more than 2,000,000 tickets
The efficiency of our email marketing campaigns via Eventbrite Boost stands out, with 331,681 emails sent. The email open rate of 49% illustrates that customers want to hear about their favourite events and new events that might interest them.
Through our Instagram Growth campaigns, leveraging the power of the Eventbrite Boost platform, we've gained 9,370 new followers for our clients at an average cost of just $3.10 per follower.
Our joint venture with Eventbrite has also borne fruits in the paid social media campaign sector, registering a stellar Return On Ad Spend (ROAS) of 21.33x
In the past year, we've successfully serviced a wide array of events, 1850 to be precise!
Case Studies
We have the pleasure of working alongside a diverse range of talented event organisers, and we love nothing more than seeing and helping them succeed. Let's take a closer look at some individual success stories and contributing factors.
The Grounds
After being dubbed the ultimate socially distanced entertainment experience and receiving worldwide acclaim in 2021, The Grounds returned for another season of magical cinema in winter 2022. Set in the spectacular event space at the foot of the Hong Kong Observation Wheel, The Grounds really is an experience like no other and it's not hard to see why it's so popular.
We knew that The Grounds was a strong brand that people were happy to get behind, and we wanted to put the exclusive Instagram Growth campaign tool on Eventbrite to good use and see just how much we could increase The Grounds' social media following. In all, our growth campaigns lead to 6,343 new followers for The Grounds, a 71% increase in the brand's overall followers.
Zicket's Paid Ads service is an invaluable addition to our marketing mix. Using the latest technology and tools available, Zicket deliver fantastic ROI on sometimes very modest budgets by putting their industry expertise and experience to work through their platform. When considering how we spend our marketing dollars we always make paid spend via zicket a "must do" and we are always very happy with the returns we get from that spend and the ease with which we can deploy it.

Simon Wilson - Managing Director, Greater Bay Media Entertainment
Got Balls
After three long years, Hong Kong bingo party sensation, Got Balls, returned with a bang in February. Their XL festival-themed "Glastoballs" event was the perfect way to reassert their popularity and unique offering. We knew the return of this juggernaut would cause a stir, we knew demand would be high, but what happened when it went on sale was the stuff of event organisers' dreams.
We sent out an announcement email to Got Balls' past ticket buyers, and it was successful. A 61.3% open rate showed their audience was engaged and waiting for the announcement. The event sold out in a matter of hours.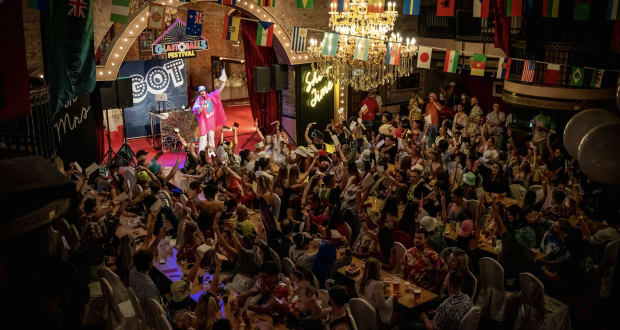 HKFC Citi Soccer Sevens
The globally renowned HKFC Citi Soccer Sevens faced a unique challenge in 2023: to stand out in a saturated Hong Kong event market that was bustling post-Covid-19 hiatus. This was despite the event's rich legacy and significant global standing. Understanding the magnitude of the task at hand, the event organisers turned to Zicket. We implemented a holistic approach, merging our ticketing service with precision-targeted digital marketing powered by Eventbrite Boost, supplemented by email and organic social activity. Our tailored approach bore fruit, achieving extraordinary results.
Zicket's digital marketing efforts tapped into 27,376 potential attendees, leading to 1,282 link clicks. This amounted to a whopping 49x return on ad spend – a clear indicator of the efficacy of our strategy and our use of the Eventbrite Boost platform.
Partnering with Zicket for this year's HKFC Citi Soccer Sevens was a game-changer. Their innovative approach to digital marketing significantly boosted our ticket sales and ensured that our event was seen by the right audience in Hong Kong. The ticketing was a breeze to navigate, making the process seamless for both us and our attendees. Zicket's attentive and dedicated team ensured smooth operations, always ready to help whenever needed. Zicket's work was a significant contributing factor to the event's resounding success. I can't recommend them highly enough for their stellar service and performance.

Ryan Matthysen - Event Organiser, HKFC Citi Soccer Sevens
How We Do It
In a nutshell, we give event organisers the tools they need to make their event a success. Zicket.co is much more than a ticketing website, we are here to help organisers sell more tickets. Here's what you can expect when you list your event with Zicket.
Paid social advertising with smart audience targeting to suit your budget. - Our clients have achieved an average ROAS of 21.33x
Inclusion in Zicket's weekly newsletter. - Sent to over 6000 event enthusiasts in HK.
Announcement & reminder emails to your subscribers. - Keep your audience in the loop and generate easy sales from past buyers with emails.
Featured listings and inclusion in Zicket blog posts. - Get additional exposure on zicket.co, visited by nearly 100,000 event enthusiasts every month and capture the attention of prospective customers.
Posts on Zicket social channels. - Exposure to our combined social following of 5250+.
Marketing insights & reports. - Understand where your sales are coming from and make informed decisions on how to increase them.
Support with marketing asset creation if needed. - Our in-house designers and event marketing team can help with creating all of the assets you need to succeed.
All of this and more, managed by our expert team of event marketers.
The New Zicket.co
Crafted by the seasoned experts at Parallax, the new Zicket.co website is a testament to modern web design and functionality. Seamlessly integrating with Eventbrite API, the site automatically updates with new events, offering Zicket's editors unparalleled flexibility in content management. Thanks to advanced caching, on-demand media loading, and minimised third-party dependencies, users enjoy a fast and seamless browsing experience. With a primary focus on mobile optimisation, the platform ensures a consistent, top-notch experience across all devices.
Collaborative Efforts with Eventbrite
Our partnership with Eventbrite has been more than just a collaboration; it's been a symbiotic relationship where both parties have learned, evolved, and achieved milestones. Our shared successes aren't just in the numbers. They are in the stories we've crafted, the challenges we've overcome, and the innovation we've embraced. Eventbrite's tools, resources, and insights have been instrumental in shaping our offerings, and together, we are looking forward to many more years of joint achievements.
The Event Industry In Hong Kong
The successful launch of Zicket.co coincided with the easing of Covid-19 restrictions in Hong Kong. With bigger events reemerging throughout 2023, we are looking forward to a strong comeback for the Hong Kong events industry. Early signs are great and demand for events is high, so we look forward to a prosperous year ahead with more client success stories to go with it.
Conclusion
From the onset of our collaboration with Eventbrite in August 2022, we have not only adapted to the monumental changes in our business but have also thrived, bringing forth unmatched value for our clients. We are poised to leverage this momentum, driven by our joint expertise and commitment, into the foreseeable future.
We are thrilled for what lies ahead and eager to make the upcoming year even more impactful for the Hong Kong events industry, in partnership with Eventbrite.