Over the past 12 months we have sold over 3 million tickets, processed over 8 million RFID transactions and worked with some incredible events, venues & clients in Hong Kong, Singapore, Shenzhen & Macau. It has certainly been a wild ride so far and we look forward to what the future holds...
As we continue into year 2 we have a number of large projects in the pipeline and our team of event experts will be kept busy through our peak winter season in Hong Kong and heading into new territories in 2020!
It's been a non-stop first 12 months including deliveries in Hong Kong, Singapore, Macau and Shenzhen and we look forward to adding more amazing clients and events to the system in 2020. We have been very fortunate to work alongside some prominent events and venues who put a lot of trust into the team and the systems which allowed us to really hit the ground running and deliver some really impressive operational numbers. Early days of any start-up or new company is a whirlwind but it's great to come up for air, look back on what we have achieved to-date and get ready to go again!

Aidan Pawson - Managing Director, Zicket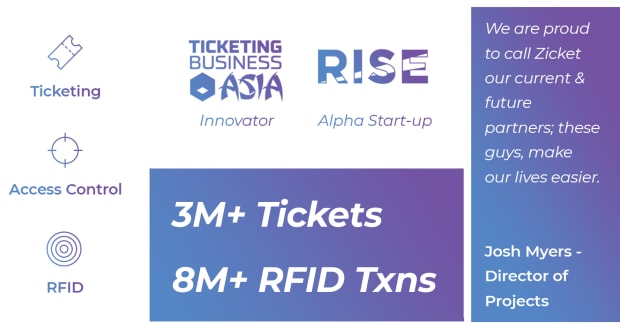 We are showcasing our products and services at the inaugural Ticketing Business Asia in October and All That Matters , in September after being accepted onto the RISE Alpha Startup Programme, in March where we were proud to be placed alongside some of the worlds best up and coming tech companies.
As always a massive thanks goes out to our great Clients, Partners, Colleagues, Family and Friends! We've built a lot of great relationships in year one, and we're looking forward to what our the next year has in store!